A year ago, I posted about my storage solution for my virtual pets now that I had moved out of my childhood home and could no longer have them on display. It also makes virtual pet transport easier than having them all loose.
This solution is still great, but besides the Tactix 3 Piece Interlocking Organiser that I mentioned in the original post, it's not really the most portable of solutions – especially if you just want to carry around a few devices.
So I thought I'd give a run down on a few ways to travel with a few Digimon and keep them safe! NO CRAFTING REQUIRED!
First of all, obviously, if you're looking for storage, my opinions have not changed from a year ago – the 6, 8, and 12 compartment boxes are still amazing solutions and I've since bought a few extra to accommodate for additional devices and so that existing toys are less cramped together. I've also moved some of my lesser used devices to the bottom of the Tactix organiser since it's a little less convenient.
In terms of portability, however, the 6 compartment solution could work out of these, but it's a little large and some smaller toys will rattle around, and the Tactix organiser is kinda bulky and I can't imagine anybody running that many virtual pets simultaneously.
I tried a few different solutions for virtual pet transport – make up bags and pencil cases, but nothing really seemed right, but it's a viable method and solution if you get the right fit.
Reddit user thehumulos recently recommended two virtual pet transport solutions; earbud cases and an electronics organiser, which I nabbed both on Amazon to check them out.
The earbud cases work pretty well and they keep the toys secure. I opted to buy a few with differentiating colours so I could be able to tell which Digimon is which.
You can find different sizes, but the ones I linked above are absolutely perfect for me. You can find different sizes for bigger headphones or any type of small device cases such as a car key cases.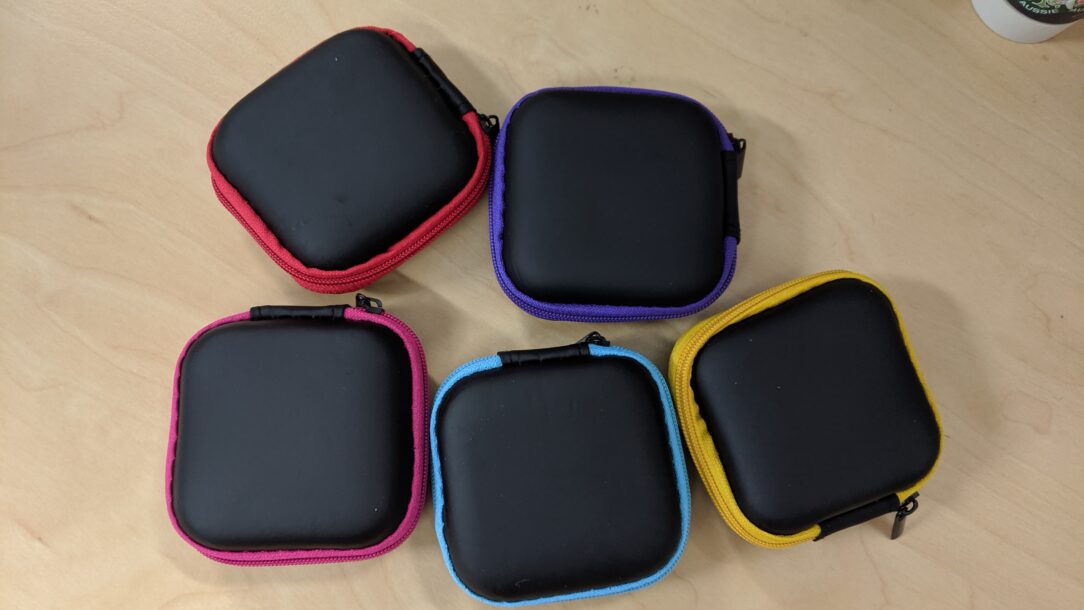 These are a pretty great size for both the Pendulum and Digital Monster. It gives you just enough room so that you can choose to have the entire toy zipped up and store the keychain inside the case itself, or have the keychain pop out for use.
There's also a pouch for extra batteries or perhaps even a small screwdriver or plastic tab.
It's a pretty basic solution, but it works pretty well.
The downside of the earbud cases is the fact that it doesn't keep your virtual pets together if you have more than one, meaning that you might find yourself digging around in your bag or pockets for the right toy.
However, if keeping everything together nice and neatly, you can try the electronics organiser, which can fit various devices of different sizes. It's a nice, tidy, and organised way of travelling with multiple different devices.
This organiser can slip nicely into a shoulder bag, backpack, tote, luggage, you name it, but it doesn't really protect the toy as much as the earbud cases.
I opted for the smaller size as I'm going for portability, but there's nothing wrong with getting a bigger size.
I'm trying to find a tablet or laptop case that is the right size for an added level or protection, but I haven't had much luck yet. Bulkier objects such as modern Tamagotchis like the Meets or the M!X stick out a bit too much, so I'd recommend this for smaller and flatter devices.
Speaking of the Meets and M!X, it's important to keep those guys protected too, and a super cute and quick way to do so is to buy a small bottle of hand sanitiser that had a removable rubber case. In Australia, Dettol has released a great sized hand sanitiser, but I've seen similar ones from Target America with different colours, so I'm sure it's possible elsewhere!
My favourite is actually the earphone case – small, cute, discreet, compact – it feels like it's a perfect fit to just slide into my pocket or bag and go!
What's your method of virtual pet transport and storage? Did this post give you any ideas?
You can help out the podcast and blog in the following ways:
And thank you to our supporters on Patreon; Joe, AnimeGuy, Steven Reeves, Kaida Washi, Chisai, Kyle, Tom, Lizmet, Nicholas, Sam, Spiral, Keith, Magnus, Anabel, and Heemi!