After visiting MadFest in 2017, and then again 2018, we came back in 2019 for more mad fun and, now that our website is back up and running, it's time for a slightly late recap of MadFest 2019!
On September 14th and 15th 2019, MadFest was running at the Melbourne Convention Centre once again. As per previous years, the centre was easy to get to – a quick and lovely walk down the Yarra from Flinders Street station. The hall itself was held in the same room as the 2018 event, but this year it felt more spacious and much less cramped than the previous event.
Despite the increased space, there certainly weren't less attractions this year!
When the event opened at 10am on the Saturday I rushed in to get in line for the attraction I was most enthusiastic for – the My Hero Academia obstacle course.
I dashed in with a great start, taking the lead..until my Taichi wig got caught which caused me to fall behind – I guess I'm the underdog character of my own shounen anime. Despite my crushing defeat, I was still awarded a Deku badge and was greeted by standees of Bakugo and Deku, which I of course posed with the following day as Kurapika from HunterXHunter.
Next up I rushed to take place in an attraction that was returning from last year – the One Piece scavenger hunt.
Funnily enough, I took longer trying to find the place to get the treasure map than finding all of the stamp locations – this time, instead of ink stamps, it was a hole punch – I'm guessing the ink would have run out pretty quickly last year, so the hole punch replacements are probably a good move. Completing the hunt would reward the attendee with a 20th anniversary commemorative coin.
Next, since it was still quite early and the convention had yet to reach its full capacity, I decided to check out the Nintendo area where I fell in love with a game demo I played – Disney Tsum Tsum. The volunteer had me at 'it's Bejewelled, but cute'.
In addition to this, you could check in at the My Nintendo booth and choose between either a Nintendo branded pop socket (the things you stick on your phone to help hold it) and a Nintendo branded towel (which I chose, it's a pretty surprisingly high quality towel, actually).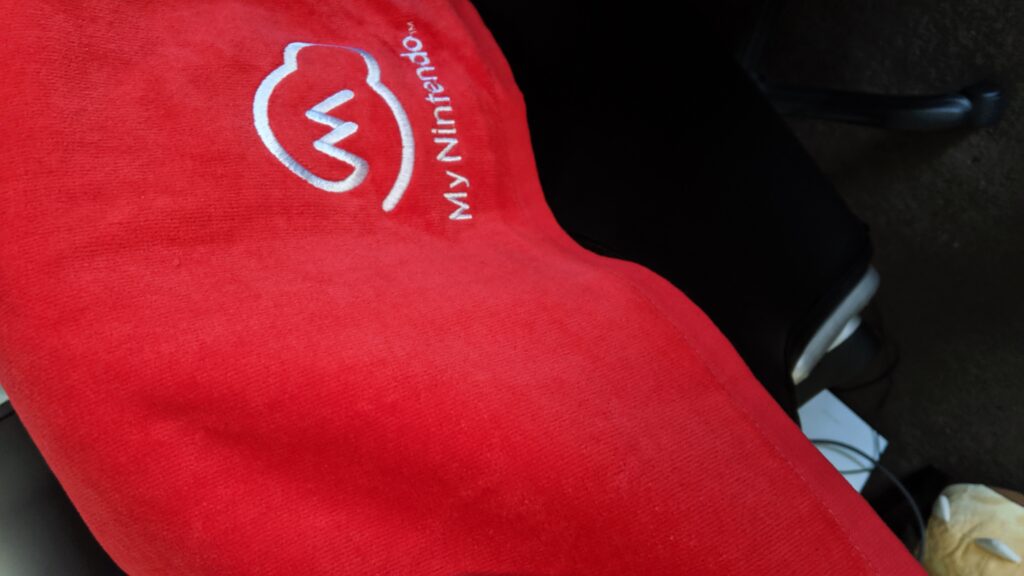 Another attraction, which I only decided to visit on day 2 in their last sessions because the amusingly long line actually peaked my curiosity – the Fate/Stay Grand Order summoning event.
I was in line for two hours to press a button and get a badge, this was fine, as not only did Yū Asakawa drop by for some Q&A, it gave me time to get through the tutorial of Fate/Stay Grand Order so I could pick up an additional badge.
Once it was my turn, I was able to catch a Caster, though since having watched the first few episodes of Fate/Stay Zero, I'm not too thrilled. At least my Caster is Merlin.
I really wanted Saber though…
For other miscellaneous and brilliant attractions, there was the Maid Cafe, an artists alley (as per most conventions), various displays of awesome figures, an artists area for drawing and badge making, a cosplay workshop area, an area to watch live panels, the Red Cross giving out water bottles and jelly beans, an area to watch anime on a big screen, and an area to sit, relax, and read some Manga.
One of the live panels was also hosted by a friend of mine – Tom Anderson. This was a game show called – quick draw, where two artists must do artistic battle in a time frame.
Speaking of Tom, he then braved to play the Code Vein demo.
Something that I'm really glad there was lot of this year was photo opportunities with props or promotional cosplayers.
A returning exhibit was the anime wrapped cars, however, this year, I was pleasantly surprised to see a Digimon themed car!
I only have one minor complaint this year – there was no Nendoroid face making like there was last year!
Well that's our write up for this year, thanks again to Stefan for the opportunity to cover MadFest and we're really looking forward to seeing how this convention can continue to grow and we can't wait to see what MadFest has in store for 2020!
Thanks for reading! Did you go to MadFest this year? What was your favourite part?
You can help out the podcast and blog in the following ways:
And thank you to our supporters on Patreon; Joe, AnimeGuy, Steven Reeves, Kaida Washi, Chisai, Kyle, Tom, Lizmet, Nicholas, Sam, Spiral, Keith, Magnus, and Anabel!