End stretch here, so it's time to talk about a Digimon that nobody really talks about, but is another nostalgic Digimon from Digimon World 2003…
V is For…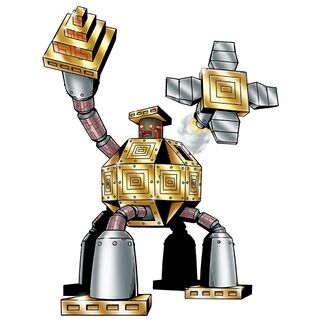 It feels like it's been a while since I gushed about a Digimon from Digimon World 2003 (or maybe not, was Sabedramon the last DW2003 Digimon I mentioned?), so it's time to gush over it again!
Valvemon is, what felt like, the first 'boss' in Digimon World 2003, and it was definitely the first challenge for me when I first played the game. Valvemon was actually given the name of 'Bulbmon' in the English release, which I would assume was a misreading of Barubu (バルブ).
I also remember reading 'Bulbmon' and confusing him with 'Boltmon' for some reason, so I was really worried about facing a fully evolved Digimon so early in the game. I was fairly surprised when I saw a Digimon I had actually never seen before.
However, despite the fact that Valvemon debuted in 2002, he has only appeared in one anime season (Xros Wars) and he's never really appeared in a virtual pet (only the D-Spirit). Which is kind of sad because I kind of like his design; he looks like he should evolve into Apocalymon. Maybe we'll see him in Kizuna or the Adventure reboot.
---
So who is the most nostalgic Digimon that starts with the letter 'V' in your opinion? Let us know in the comments!
---
You can help out the podcast and blog in the following ways:
And thank you to our supporters on Patreon; Joe, AnimeGuy, Steven Reeves, Kaida Washi, Chisai, Kyle, Tom, Lizmet, Nicholas, Sam, Spiral, Keith, Magnus, Heemi, and Luke!
---
Be sure to check us out on our various social media accounts: