While there's no true chronological order of Digimon, I often have been asked and I often see people ask how they can get into the series, or what order to watch the Digimon anime in.
I have a list that I put together for the podcast in the past and I've posted as an answer to a question on reddit a while ago, but, with the release of Kizuna and the upcoming new Adventure series getting a release, I thought it was time to update the guide on my suggested chronological order of the Digimon series and post it here with a little more detail.
In July 2020, I also recorded a podcast version of this post, check it out here!
The Chronological Order of Digimon and How Seasons Connect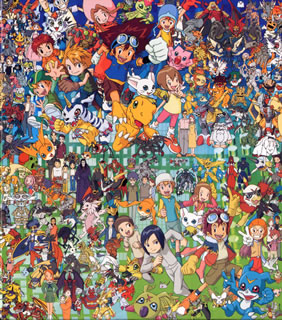 Before we start, just a brief explanation of this guide; I've bolded the anime/movies, italicised CD dramas, and the WonderSwan games (and the one short story) have no formatting
For the CD Dramas, I've included links to their translations, for the WS games, Beyond Yesterday is a fantastic resource for the plot and transcript.
Seasons 1-5 have been released in English on DVD. The movies in English are currently lost in time, but a nice Japanese BluRay set exists with the movies on them. The Wonderswan and games can be found on eBay, JapanYouWant, and FromJapan. The first Wonderswan game was released in English but it's rare/expensive.
I'm not adding ALL of the games and manga as, besides the WonderSwan games, none really tie into the anime much so they don't really have much to do with how I'd recommend chronological order of Digimon.
I've also mentioned which seasons/movies weren't released in English.
For information about adding subtitles (to the movies or Appmon, for example), there's a guide here. To check what streaming services have what season available, check out because.moe.
If you're just looking for the easiest way to get into the franchise in general and don't really want to watch everything suggested in the chronological order of Digimon as you don't really want to watch the anime, the Cyber Sleuth Complete Edition is a good way to go.
With that covered, let's get into my recommended chronological order of Digimon, how each of the seasons connect, and how I would recommend a new fan to experience the series to get into it.
Part 1 of the Movie or Digimon Adventure the Movie
Digimon Adventure (Alternatively, the novel and the PSP game change a few bits from the series, but can be consumed in place of this)
Digimon Adventure: Character Song + Mini Drama 1 Transcript here
Digimon Adventure: Character Song + Mini Drama 2 Transcript here
Digimon Adventure: Character Song + Mini Drama 3 Transcript here
Digimon Anode/Cathode Tamer
Part 2 of the Movie or Our War Game!
Digimon Tag Tamers
Digimon D-1 Tamers
Digimon Adventure Original Story: 2½ Year Break Transcript here
Digimon Adventure 2015 released CD Drama Transcript here
Digimon Adventure Zero Two (Episodes 1-21)
Part 3 of the Movie or Digimon Hurricane Landing!!/Transcendent Evolution!! The Golden Digimentals
Digimon Adventure Zero Two (Episode 22 and onwards)
Revenge of Diaboromon
Digimon Adventure 02: Armor Evolution to the Unknown Transcript here
Digimon Adventure 02 Original Story: 2003 -Spring- Transcript here
Digimon Adventure 02 Drama CD: The Door to Summer (Sequel to Hurricane Touchdown) Transcript here
Digimon Brave Tamer
Digimon Adventure Tri Part 1 (can be found on CrunchyRoll and Animelab, but has also been released on BluRay and DVD)
Digimon Adventure Tri Stage Play (released on DVD in Japan without subtitles, the stage play takes place around the same time as parts 1 and 2 of Tri)
Digimon Adventure Tri Part 2-6
Digimon Adventure Last Evolution Kizuna (either novel and movie can be consumed as they are the same story. As of writing this, Kizuna is not available on any streaming service)
Digimon Adventure: (a complete reboot/retelling of Digimon Adventure, you don't necessarily have to watch this as this, so far, can be judged as separate canon all together. The anime can be found on AnimeLab, CrunchyRoll, Hulu, and VRV)
Digimon Tamers (Episode 1-23)
Battle of Adventurers
Digimon Tamers (24 and onwards)
Digimon Tamers Original Story: Message in the Packet (Finale of Tamers) Transcript here
Runaway Locomon
Digimon Tamers 1984 (Short story Prequel to Tamers) Read here
Digimon Tamers 2018 released CD Drama Transcript here
Digimon Tamers games (such as the Wonderswan Card Game, Battle Spirit 1 (+1.5), Battle Revolution and Chronicle/Rumble Arena 1 and 2, Digimon Medley, Pocket Culumon, etc) can be played here, but are all fairly optional as they're non-canon (however the crossovers between the Adventure and Tamers universes – particularly Medley for the Wonderswan – are pretty cool)
Part 1 of Digimon Frontier (stop at episode 37)
Island of the Lost Digimon
Part 2 of Digimon Frontier (38- the end)
Digimon Frontier: Battle Spirit/Battle Spirit 2 (as with the first two Battle Spirit games, this is fairly optional)
Digimon Frontier Original Story: Things That Want To Be Told Transcript here
Digimon V-Tamer (Not released in English, has Omake chapters with crossovers featuring Daisuke, Ryo, and Takuya In May 2020, an additional chapter was released in the July 2020 issue of Vjump which featured a crossover between V-Tamer and Taichi from the 2020 reboot of Adventure.)
Digital Monster X-Evolution (Wasn't released in English, slightly connected to Digimon World 4/X)
Digimon Frontier 2019 released CD drama Transcript here
Digimon Data Squad/Savers
Ultimate Power! Activate Burst Mode! (Wasn't released in English and it's hard to place it in the series)
Digimon Story DS has the main characters from Savers and there's also Digimon World Data Squad, but both are fairly optional as with the Tamers games. The other DS Story games such as Dusk and Dawn do not tie in as much besides the use of the iC Digivice.
Digimon Fusion Season 1/Xros Wars Season 1 (CrunchyRoll)
Digimon Story: Super Xros Wars Blue & Red (DS game which never had an English release, optional, but in the same universe and time as the first Xros Wars season)
Digimon Fusion Season 2/Xros Wars Season 2 (CrunchyRoll)
Digimon Xros Wars had a manga retelling of the series, characters from Season 3 (Young Hunters) such as Taigiru and Gumdramon did not make an appearance
Digimon Xros Wars Season 3 (Never released as an English dub, can be watched on CrunchyRoll)
Digimon: All Star Rumble (optional, but fun, and what I would call a huge impact on the Digimon revival)
Digimon Universe Appli Monsters (Released in Japan on DVD and was released in 2019 on CrunchyRoll in Japanese with English subtitles. As of writing this, there has been no news of an English dub, but has been released in other languages)
Appmon was retold in a manga series and had a prequel spinoff called Appmon Gakuen. In addition, there was a 3DS game. Neither the manga nor the game were released in English.
---
Hopefully this post answered your questions about the chronological order of Digimon, how the seasons of the anime connect, and how to get into the franchise.
---
You can help out the podcast and blog in the following ways:
And thank you to our supporters on Patreon; Joe, AnimeGuy, Steven Reeves, Kaida Washi, Chisai, Kyle, Tom, Lizmet, Nicholas, Sam, Spiral, Keith, Magnus, Heemi, and Quarters!
---
Be sure to check us out on our various social media accounts: