Curious about storing/displaying your Digimon collection? I've got you covered with a few handy tips.

After my post last week, I've done some organising and investigating and I've found what I've been looking for, so here's an update!
Firstly, the folder previously bought for charms was far too small, so a regular large binder and plastic sheets was purchased to hold the charms. The original folder is now used to hold flat items such as comics and inserts (and the membership to the Digimon 400k Club).
Here's one page from the binder prior from moving to the small folder to a large binder. I used paper and metal paper holders (don't know the name for them, I just found them around, they hurt to split once inserted though) to hold in the charms (as well as a small bit of blue tack behind the charms)
The badges are on a soft piece of…no idea what…kinda feels soft. Just found it around.

So, after hunting around, I found a few different sized boxes at Bunnings (links to where I purchased this will be included below).
Conveniently, I had a hospital visit on Friday and a Bunnings was on the way home.
I bought a lot of varying sizes, shown below is one that has removable dividers which I ended up buying two of and moving around the dividers so that one could store the Digimon Originals (v1-v6, D1 v4, and spare grey 20th) and four Digimon Pendulum X (v1, 1.5, 2, and 3). Shown in the following two images below:

There was also another of the same brand which was twice as large (twelve compartments instead of six), I bought two of these, one for original Pendulums, v1-v3 Pendulum Progresses, as well as an original Mini, and the three Xros Minis and the second for my DataLink, iCs (and Burst), Twins, Pendulum Neos, and Pendulum Cycles.
In addition to these, there was also a larger size which did not have removal dividers, had eight compartments, and was a lot deeper, which I grabbed a few of and used to store larger Digivices and all analyzers except for the Analyser and Window as they were too large to fit. The Analyser now lives on my desk at home and the Window is stored on top of one of the boxes. Another of these large boxes also store some of the non-Digimon and non-Tamagotchi electronics tha I own.
I wasn't sure about this one since it didn't have the customisation that the other boxes have but I ended up driving back the next day for an extra one.
In the following photo you can see each of the three sizes.
For reference, here are each of the boxes from the Bunnings Website:
(Small | Medium | Large )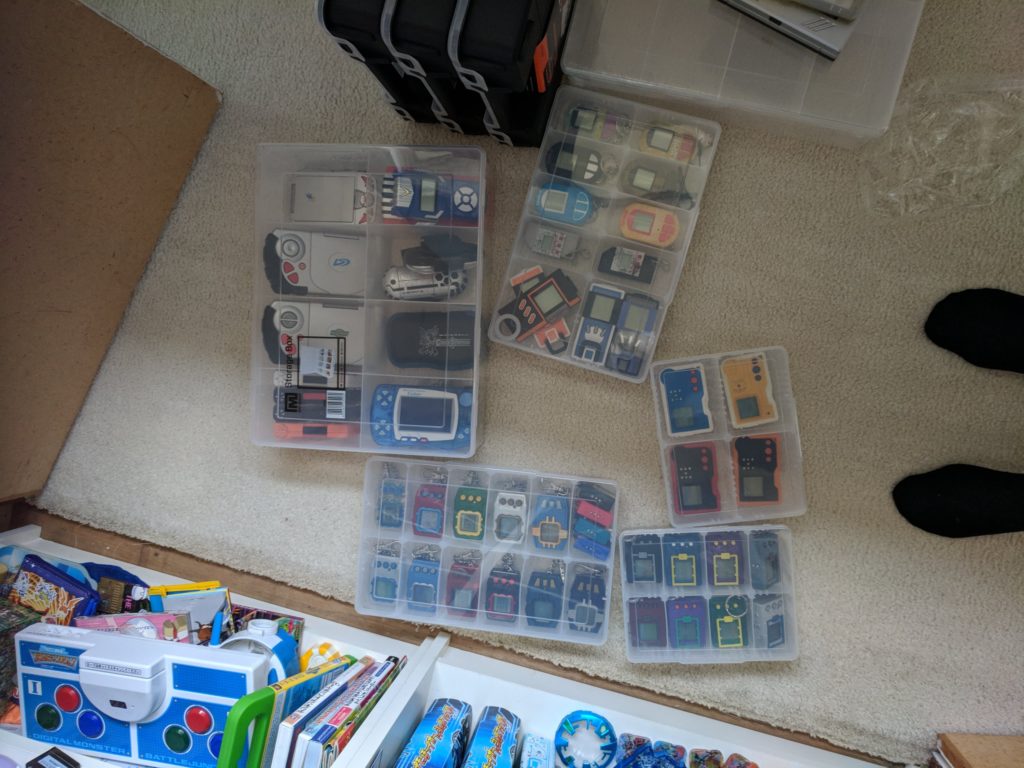 The final one (shown in the above image, slightly), which I almost considered returning after how pleased I was with the basic clear ones, is a slightly heavier duty storage solution which came in a three pack that can stack and join together for easy transportation. It was on sale for $12 and now stores various Digivices and Tamagotchis. It's not awful, but I do prefer the clear packs as it's easy to see in and look at the beauties inside. This also had removable dividers, not to the extent as the smaller clear boxes, but enough so that a few bigger Digivices could fit.
(You can find this one on the Bunnings website here)
All of these were purchased in person at Bunnings Warehouse in Australia under Storage/Garage Storage. I have provided links above.
Other places (Ikea, Officeworks, and Woolies) were investigated but nothing seemed as perfect as the storage solutions that Bunnings provided.
They were all pretty affordable too.
As for where I have them, I don't 100% trust the storage cage in the garage at the apartment, so they're living in my cupboard.
I'd like to find a better place for the ver20ths Digivices which won't stick out and appear as clutter in my apartment but doesn't make my now neat and tidy cupboard cluttered either.
Maybe another of the larger clear boxes from Bunnings if each box fits.
As for next steps for organising my collection, I need to find a way of storing my figures and plushies.
Some GEM figures I could put at my desk at work or, perhaps, for the smaller ones (like the DigiColle) buy more boxes and magnitise the bases so they look nice.
Or I could carefully wrap them and put them in a tub and trust the storage cage.
I could probably sell some possible (I don't really care much for the Yagami and Ishida siblings ones. They're cute, but I don't care for the same reason I cancelled my preorder for the GEM Wargreymon and MetalGarurumon – I have so many GEM Taichi and Yamato figures and have too many WarGreymon and MetalGarurumon figures. I don't need more of the same character. The Greymon and Taichi and Garurumon and Yamato figures are nice, don't need more.
The next step is an annoying one – plush toys. I have A LOT of these. These will probably be bagged and put in the storage cage.
So in short, if you are looking for a storage solution – especially for electronics – I would recommend storage solutions like these, I'm not sure if Bunnings offers International shipping or not, but I'm sure similar solutions exist.
I would recommend, if you're looking at a clear box, to bring in a few of the devices and place it next to each hole to see if it would fit or not.
The binder and folder mentioned earlier were both from WoolWorths and are pretty simple. These can be found anywhere. I'd recommend a bigger binder if possible if you're storing charms. I thought the binder purchased was huge and it only just fits all my charms (I have the Tri Ultimates set in the mail, so I'll have to add them soon)!
I'd love to see photos of other Digimon collections! Does anybody else have any handy tips they'd like to share?
Now, enjoy the latest photo from my bedroom – the Alphamon that arrived yesterday!

You can help out the podcast and blog in the following ways:
And thank you to our supporters on Patreon; Sam Krieger, (SteviePatamon on Tumblr and takes commissions), Joe, AnimeGuyKurosaki1,Chakmon, Hiro Alato, Jason Morosky, Ryuichi (frostmrajick on Archive of Our Own),Steven Reeves, Kaida Washi, Mac, Noam, Riku, Chisai, Kyle,DaLadyBugMan(you can read his blog about anime on baguburagu.wordpress.com), Tom, GlitchGoat, Matthew, Anthony, Lizmet, Quinn, Sithobi, Meagan, Kyliek, Neoboo, The Time Optimist,SilverHairedFreak25 (@SHF25Tweets on Twitter), Nicholas, Anthony Z, Harrison, and Michael C!

– May