We will be discussing these in depth in our Appmon final overall discussion episode we're recording shortly! I just thought it would be good to get a post together about it first!
Up first, we asked people in our 'Best of Digimon' survey (which is still running, by the way) what their favourite seasons of Digimon were. Since the survey is still running, I'll only go over the Appmon-related bits.
191 people have completed this survey so far and all questions were compulsory.
Amazingly, Digimon Universe Appli Monsters was the third favourite overall to Digimon Adventure and Digimon Tamers. Only 6 people (3.1%) thought that it was their least favourite season making it the third least least liked season.
Haru ranked as the third most popular leader, again, behind Tamers and Adventure and only 10 people (5.2%) said that Haru was their least favourite leader.
The last question on the currently running 'Best of Digimon' survey that relates to Appmon is the 'favourite episode' question.
While 55% of respondents hadn't watched it yet, 4.7% didn't remember their favourite episode and 10.5% didn't remember their least favourite episode, the majority of the ones said that their favourite episodes were Episode 52 "Our Singularity" (14 or 7.3%), Episode 19 "The Net Ocean in a Big Pinch!" (11 or 5.8%), or 45 "The Big Clash!? Gatchmon vs Gatchmon" (9 or 4.7%) and their least favourite episodes were 26 "I am the Protagonist!? Encounter with Gatchmon (16 or 8.4%), 30 "Dokamon's Love!? Gourmet App" (7 or 3.7%), or 29 "Buddies no More!? Gatchmon's Run Away From Home" (4 or 2.1%).
Only one person agreed with me that Episode 4 was the best episode of Appmon! Outrageous! You can find my ranking here!
Next up, is the survey I put up yesterday which is about favourite characters in Appmon. 31 people responded.
Haru is the most popular character at 41.9% and Eri is second at 25.8%!
For least favourite, Yuujin takes the crap cake at 39.3% and Astra was the second least favourite at at 32.1%. The least least favourit was Eri. My girl.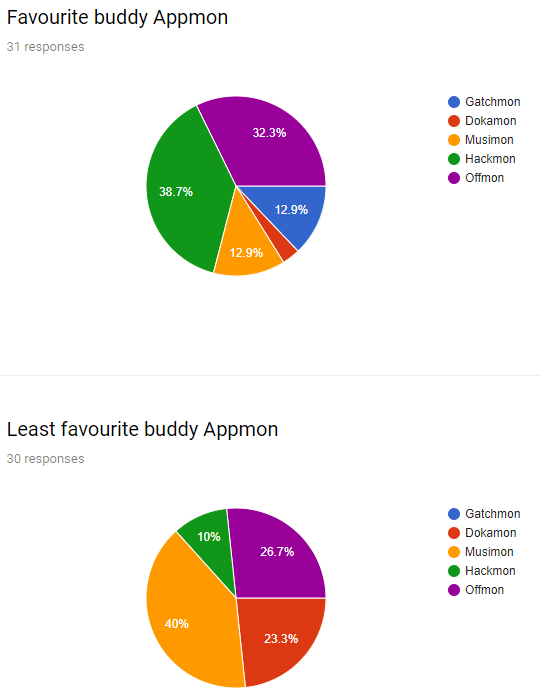 For favourite buddy Appmon, Hackmon wins with 38.7% and Offmon comes in second at 32.3%!
For least favourite, nobody picked Gatchmon! However 40% said Musimon was their least favourite and Offmon came second again with 26.7% with Dokamon coming close behind.
For Non-Appli Drivers, I forgot to put Knight so we have a fewwww Knight entries in the 'Other' option.
However, of course, the favourite non-appli drive character is 'Caught up man' who won the question with 41.9%. Ai also did suprisingly with 19.4% and Knight had a combined count of 16.1%. I'm happy to see UMA Hunter J up there. Hajime also did well with 9.7%.
As for least favourite, Watson got 64.5% and Caught Up Man and Hajime were tied for second at 12.9%.
As for OUR favourite characters as specified by us in our coverage, listener Noam put together a count which I put together in graphs yesterday! You can find this here!
Alright! On to recording our summary episode.
-May