How to get into Digimon
The Chronological Order of Digimon
Video podcast
Audio only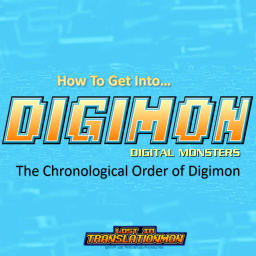 Ever wondered how to get into Digimon? Well now you'll know with this quick rundown on the chronological order of Digimon and how each series of the anime can be connected!
The original blog post that is mentioned can be found here.
---
You can help out the podcast and blog in the following ways:
And thank you to our supporters on Patreon; Joe, AnimeGuy, Steven Reeves, Kaida Washi, Chisai, Kyle, Tom, Lizmet, Nicholas, MetalMamemon, Sam, Spiral, Keith (From 'A Computer Podcast on the Internet'), SilverHairedFreak25, Magnus, and Lucas!
---
Be sure to check us out on our various social media accounts: