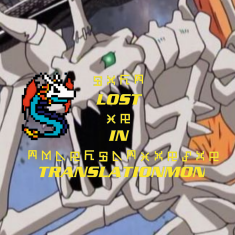 Digimon Podcast Novel 8 – Continuation of Chapter 3
We continue on with reading the third chapter of the first Digimon Adventure Novel; it's the arrival of SkullGreymon where we get to have a bit more insight of the emotions of the children and Digimon in this disastrous event!
References
---
Thanks again to Onkei for providing such a fantastic translation!
---
You can help out the podcast and blog in the following ways:
And thank you to our supporters on Patreon; Joe, AnimeGuy (animeguykurosaki1 on Youtube, Steven Reeves (WildWing64 on Archive of Our Own), Kaida Washi, Chisai (Who you can follow on tumblr at chisai236), Kyle, Tom, Lizmet (Elecmon on tumblr), Nicholas, Sam, Spiral, Keith (From 'A Computer Podcast on the Internet'), Magnus, Heemi, and Luke!
---
Be sure to check us out on our various social media accounts:
---